From September 14 to 15, 2018, hosted by the oncology group of urology professional committee of hubei provincial medical association, "the 6th hubei academic conference on urogenital male reproductive system tumor, organized by wuhan general hospital of the people's liberation army, union jiangnan hospital/wuhan jiangxia district people's hospital, was successfully held in wuhan east lake international conference center.
(opening ceremony)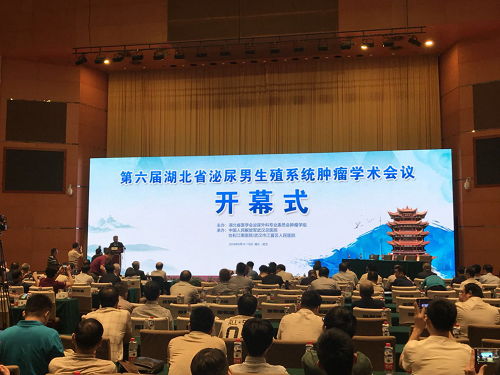 (welcome speech by liu chengyun, President of Peking union hospital/wuhan jiangxia people's hospital)
(President pan tiejun introduces the guests and delivers a speech of welcome)

(welcome speech by zhou chilong, President of wuhan general hospital of the people's liberation army)
(welcome speech by ye zhangqun, former chairman of urology surgery branch of Chinese medical association)
(welcome speech by pan xuchu, secretary general of hubei medical association)

(welcome speech by sun yinghao, President of the congress pan tiejun, on behalf of the chairman of urology department of the Chinese medical association and academician of the Chinese academy of engineering)
The conference greatly promoted the academic exchange of urology. Let the personage inside course of study actively understand and master the development frontier of urological surgery oncology at home and abroad, improve urological surgery male reproductive system tumor diagnosis and treatment level, have important meaning to urological surgery career development. At the same time, the conference also invited well-known experts and scholars in related fields to conduct special discussion on current hotspots, difficulties and perplexities in the treatment of urological tumor diseases, and make excellent reports.

Professor ye dingwei made a report entitled "optimization of T1HG bladder cancer diagnosis and treatment strategy - fudan tumor experience"

Wikkon is a leading urological equipment supplier in China. Since its establishment in 1996, Wikkon has been engaged in the development and manufacture of urological equipment, including extracorporeal shock wave lithotripsy treatment series (ESWL), extracorporeal vibration lithotripsy bed, and urological treatment and treatment bed series (UROT). The company's product sales and market share have been the leading position in the domestic medical stone crushing machine industry for many years, and its product sales have expanded to more than 30 countries and regions in the world, and the cumulative installed capacity of shock treatment equipment in the world has exceeded 5,000.